I don't know about you, but we are pretty much over in the foodie camp. We like to talk about food. We like to cook food. And sadly we like to eat food.

And yes, we watch TOP CHEF.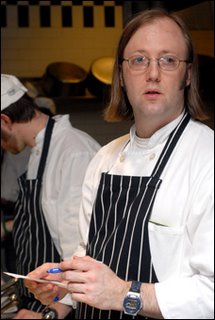 So with Stephanie's upcoming birthday, we wanted to do something very special--especially as this was perhaps our last big splurge without a child in tow for the next 10 years or so. We ended up going to a Molecular Gastronomy Restaurant with another couple and very good friends. The restaurant was WD-50, Wiley Dufresne's restaurant at 50 Clinton St. In case you don't know, molecular gastronomy is a kind of cuisine in which science (and specifically, chemistry) is applied to food. The food is often deconstructed, surprising, and the tastes are very strong and the textures emphasized.

It was a hard reservation to get, but we planned early, and snagged it. Although our end of the bill (we went with another couple, which I'm glad we did, as it made it very fun) was just south of 500 clams, it was a wonderful and memorable meal.

We opted for the tasting menu, a 12 course meal, and after some hesitation, went for the wine pairings too (well, three of us did.) They also made some accomodations to the tasting menu for my wife and the chemist, who don't like fish. (3 of the dishes had fish in them-- this was good, because I got to taste 3 more dishes.)

Our server was VERY knowledgeable, and we had lots of questions about the methods used. (One of the friends that came with us is a health policy scientist and chemist that works for Pfiser and teaches at Columbia) As a result, we ended up getting a tour of the kitchen at the end of the meal, and met Wylie, and actually had a little conversation with him. Amazing that a celebrity chef actually works at the restaurant, but there he was!

He asked us what our favorite part was, and I think that out of the 12 dishes, I liked the eggs benedict best (fried hollandaise cube, egg yolk in a jellied ball, and a very flat piece of canadian bacon stuck in the yolk like a bacon flag of sorts. I told Wylie that I liked it because it was the taste that I was most familiar with, and so could really appreciate the de-construction and re-layering of tastes. I also told him that it reminded me of a Bertolt Brecht quote: "Great art makes the strange familiar and the familiar strange." He seemed to really like that.

We also talked to the pastry chef about the other big of the night-- the browned butter
sorbet. Is it really a sorbet if it's got dairy in it? The chef reminded us that all of the dairy is culled out in the browning process.

Over all it was quite a memorable meal, and so I guess it was worth it. I'll let you know how I feel next month when I have to fork over the dough to Amex.

Below is the meal as I remember it, along with some pictures from the website-- I regret not taking my own pictures. Also some of the descriptions may be off or wrong. I apologize-- I drank quite a bit of wine, and it was 4.5 hour meal, so a lot of it runs together.

0. APPETIZER BREAD- a cracker bread that looked like Indian Pappadam, but only had a sesame taste. It was a little weird to eat that, and have it NOT be spicy.

1. A fish dish-- can't think of what it was.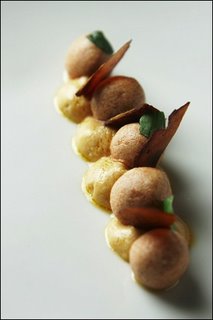 2. PIZZA PEBBLES,PEPPERONI, SHIITAKE (pictured left)
Tasted like the inside of a Combo Pretzel snack-- tiny doughy balls of pizza goodness, with pepperoni paste and fried crispy mushroom chips. Very clever, but slightly artificial tasting.

3. HAMACHI TARTARE, WAKAME, SAKE, GRAPEFRUIT-SHALLOT.
This was very tasty and well presented, but I don't quite know how to describe it.
Served in a slanting bowl, the grapefruit shallot gel was delicious.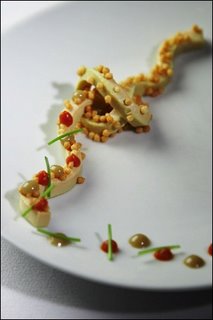 4. KNOT FOIE (pictured right)

A foie gras paste that was somehow tied in a knot (I think they bound it with a gum of some kind), it was stippled with tiny rice crackers, and paired with a delicious sake. had little tiny dips of raisin puree and kim chee puree.









5. EGGS BENEDICT (pictured left)
Gel of yolk with a little flag of bacon in the yolk, and a cube of fried hollandaise. The hollandaise was molten on the inside, but hard on the outside. There was a trail of black salt and a condiment paste-- not sure what it was. But it tasted great!

6. CRAB TAIL, SOYBEAN NOODLES, CINNAMON DASHI
The soybean noodle was one long noodle, and the crab tail was very tasty. The cinammon was also right on the money. Served in a consomme of some kind.

7. CHICKEN LIVER SPAETZLE, PINE NEEDLE, RADISH, COCA NIB
The spaetzle were somehow fried, and the pine needle was emulsified and both the emulsification and the cocoa nibs were painted on the bowl, it was very very good.

8. BEEF TONGUE, CHERRY-MISO, FRIED QUINOA, PALM SEEDS
This was perhaps the most complex dish, with a lot of flavors going around all at once. The palm seeds were kind of sour steeped in Angostura bitters, the quinoa was crunchy, and the tongue was very thinly sliced. Cherry Miso was beautifully smeared as a paste on the plate.

9. YOGURT, OLIVE OIL JAM, RHUBARB
The yogurt was a soft solid, in a long very white tuille made of olive oil The olive oil jam was delicious, and the rhubarb came as a strand.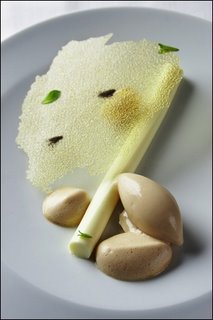 10. JASMINE CUSTARD, BLACK TEA, BANANA (pictured left)
The jasmine custard was delicious -- black tea powder on the plate and a banana sorbet with a banana slice caramelized hiding beneath. Came with a milk foam.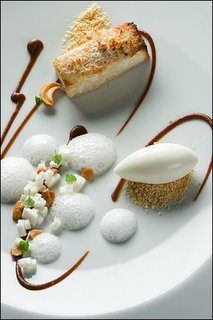 11. TOASTED COCONUT CAKE, CAROB, SMOKED CASHEW, BROWN BUTTER SORBET. (pictured right)
This was just plain delicious, esp. the brown butter sorbet, which was so caramelly.

12. YUZU ICE CREAM- MARCONA ALMOND.
Came with an amazing chocolate pouch-- the yuzu ice cream was nitrogen frozen, and drizzled with almond pebbles.

We had three substitutions for the people who didn't eat fish.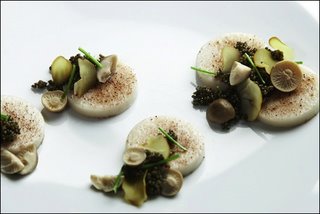 13. BONE MARROW, CHESTNUTS, TONBURI, PICKLED HONSHEMEJI (pictured left)
The bone marrow tasted like a cornmeal cake with the stuff on top of it. Delicious until you remembered what you were eating.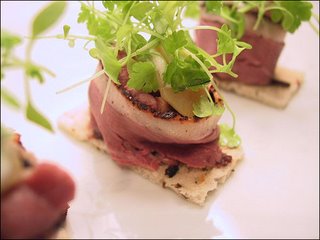 14. CORNED DUCK, RYE CRISP, PURPLE MUSTARD, HORSERADISH CREAM (pictured right)
This was like corned beef, but somehow it was duck. Delicious.

And a third thing that I don't quite know what it was-- it was some kind of vegetable dumpling-- not very memorable.

We also had a slice of white chocolate cake with tamarind caramel on the inside served with a candle for my wife's birthday.

Once again-- a memorable meal, delicious, and probably not something we can afford to do again soon. We're saving for diapers. And college.