Isn't that the name of a song? Or a movie? It also happens to be the name of our honeymoon, a quick 4 1/2 day trip to the City of Light.

We left on Monday evening after the wedding, and let me tell you, I've never been so unprepared for an overseas trip. I usually have a packing list weeks in advance and am packed at least a few days before. As it was, with the wedding and my office move, we packed on Monday afternoon (after the Times video person left, which threw a fun, but time-consuming, wrench into our packing plans), zipped the suitcases and flew out the door to drive to JFK. Fortunately or unfortunately, I have very few clothes that fit and so my choices were dramatically limited anyway, and we both felt that we had brought exactly the right stuff.

Thank goodness that was the case, as Paris was WAY expensive and we were reluctant to buy anything, let alone something that we already had at home. The dollar is totally in the dumps and we were extremely frugal, with the majority of our spending going to food. We took the Metro everywhere - we bought two week-long unlimited Cartes Orange for about $28 each, but in an uncharacteristic move I lost mine the first day (I blame the pregnancy) so we had to buy another one. Adam won't let me live that down anytime soon.

I think I was a total trooper on this trip, considering that I was 20-21 weeks pregnant and we were both recovering from the weeklong wedding festivities. We walked about 10-12 hours a day (including strolling around museums), went up and down dozens if not a hundred sets of subway stairs, and only slept late/lazed about one morning. Due to all the walking/standing, I had some pain in my abdomen (quite common, round ligament pain - fortunately, thanks to my sister-in-law Andrea, I knew what it was before we got there and it started), and some sciatica in my left lower back - but neither really held me back until Saturday, when they both happened simultaneously. At that point I was pretty happy to be going home on Sunday.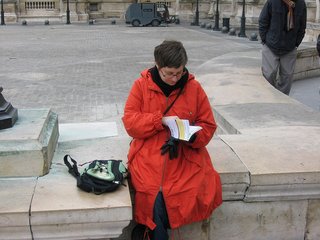 Some of the highlights of the trip: Of course the city itself, which always plays a starring role. It's just such an accessible city, totally walkable and so beautifully arranged with the Seine and the arrondissements each with their own character and features. We spent a lot of time in the area around the Pompidou Center, in and out of the edges of the Marais district for museums, eating, and shopping.



We ate two really great meals (and lots of better-than-usual-because-we-were-eating-in-Paris bistro meals): one night at Le Relais de Venise, where I had been once 13-15 years before - this steak-frites-only restaurant was as good as I'd remembered. If you get to Paris, you must go. The other really memorable meal was at Pain, Vin, Fromage (thanks, Chocolate and Zucchini) in the Marais district, where we had a hearty meal of raclette (melted cheese eaten with charcuterie, cornichons and boiled potatoes) - Adam had never had it and I'd never eaten it in a restaurant, and we really enjoyed it. We would absolutely have liked to have had more cool restaurant experiences but man, when you can't even sit down at a table for less than $50 (and only for just lunch, nevermind dinner), it's very hard to justify fancy meals, especially after having just paid for a wedding. We did eat a lot of nutella crepes on the street, as well as pain au chocolate plus wonderful French yogurt every morning for a relatively cheap but entirely satisfying breakfast.

We stayed in the Latin Quarter at a lovely little budget hotel that we can highly recommend, the Acte V; though the rooms were Manhattan-small (if not smaller), the service was great and there is a metro station 1/2 block away (though we quickly learned that that station doesn't have an escalator, so we went into the metro there, but usually came out 2 blocks away that the station with the up escalator ;-) )

We opted not to hit every tourist attraction on our list (after all, we only had 4 1/2 days) and so we saw the highlights of the Louvre, most of the Pompidou, Notre Dame, and after freezing our asses waiting in line in the windswept plaza under the structure, we went up to the 2nd level of the Eiffel Tower. We also did a great impromptu walking tour of the city on the first afternoon - from the Latin Quarter up to Notre Dame, past the Hotel de Ville, across the Pompidou plaza, to the Louvre and Pyramid plaza, over the Pont Neuf, and through Saint Germain - until we collapsed at what turned out to be a Brussels-themed chain restaurant for moules frites and beef stew. One day we spent at Disneyland Paris (more on that on a separate post - hold your groans for now), and on Saturday, our last day, we shopped a little bit together in the morning (including an amazing yarn store, La Droguerie, where I bought a beautiful book and some lovely yarn, not terribly expensive), and in the afternoon Adam went to a circus tradeshow (amazingly, yes, there was a circus tradeshow in Paris the same weekend we were there, he can elaborate on it) and I shopped a bit more. In the end, except for a few small gifts for other people and the yarn, we really didn't buy very much because of the exchange rate - all we've got in the house to show for our travels is a cow milk pitcher from the Bon Marche and a couple of wooden spoons from E.Dehillerin.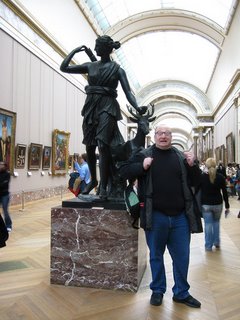 Funny that Adam, almost book-fluent in French, had great difficulty speaking French in Paris. For the first time ever since I've known him, he was shy! and felt he was making a lot of mistakes. So with my one year of high school French I forged ahead a lot of the time (I certainly didn't have any internal standard to hold myself against), and it wasn't until the last day or so that Adam started to reach out in French a bit more. But for the most part everyone spoke English, so even if we spoke French to them they answered in English. Ah well, c'est la vie!

All in all, a wonderful trip - just the right length, distance from home, and level of excitement/exertion for our circumstance. I'm sure Paris will be top of our list of destinations for future travels.