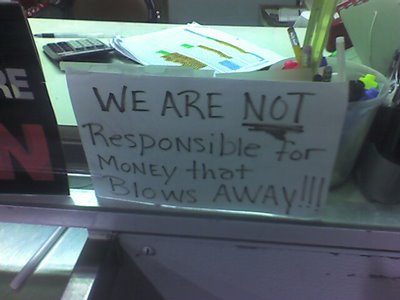 I've been making my trek back and forth to Providence for the last couple of weeks, getting Bright Night ready (and now doing all the necessary clean up for the festival) I often stop at the Stop-n-shop for Gas, but usually I pay by credit card. This time, I decided to pay by cash---. Fortunately, I had plenty of quarters!

I'm really just imagining the circumstances that forced the creation of that sign. Is that a common complaint? "Hey, I put the money down, and it blew away. Hey it's not my fault. Hey, once I lay it down, it's as if I've paid it. If you don't pick it up in time, it's not my fault. Yeah, it was a 20. I don't know, somewhere over there."

Anyway, I chuckled, I took a picture, I shared it with you.

Enough said!