So I received a new computer from Apple without paying for it.... ASK ME HOW!

I was fortunate enough to buy a reconditioned emac about two years ago that served me well, but about 1 month ago started having problems with it. It was having video problems, freezing unexpectedly, not working properly. I thought it was on its last legs, out of warranty, and I started thinking painfully about buying a new one. Fortunately, I did my homework-- I checked out the APPLE
website, and it turned out that my emac was on a repair extension list. But since they can't repair them anymore since they stopped making them, they decided to give me a brand new one. In short, I win the lottery.

It arrived today, and it is in a word, awesome.

I had an 1.25 G4 Emac with 256M RAM, 40 gig Hard Drive, and a Combo drive.
I now have a 1.8 Intel Imac with 512M RAM, 160 Hard Drive, a combo drive, and a built in Isight camera.


Which means I can spend a good deal of my day being productive creatively, as I strive to make Bright Night Providence happen on a timely basis.

You know, like doing this: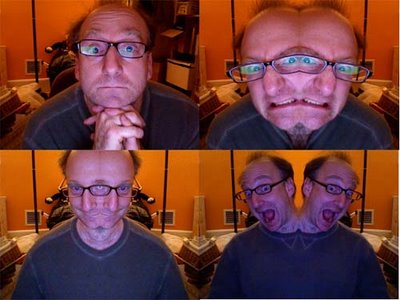 Clearly the best use of my time!


Of course, having a video camera means that if I intend to use it, that means I'd better clean up the mess behind me-- and maybe have to shave every day and get a haircut. Clearly, video isights are part of Apple's secret plot to sell more razors!
I thought it was weird they were investing in Gillette... Now I know why!