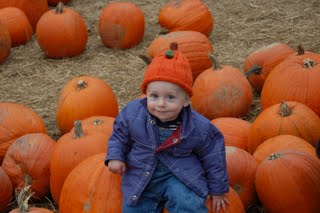 I'm in Las Vegas for Blog World Expo for the next few days and I was talking to some bloggers last night, describing how we used to be housebloggers, but that now I feel like we're no longer legit in using that term (when we do blog, which is so rare). It's almost never about the house anymore, much more about Aaron and our lives. So someone said, "now you're a

home

blogger" which is so true! That's what I'll say from here on out. I definitely don't want to be lumped into the "mommyblogger" category since a) Adam writes 75% of the blog and b) it's about more than our kid (well, at least that's the intent). (I also have an issue with the term "mommyblogger," as do many female bloggers I know, since marketers and PR-types (my colleagues, excluded, of course!) tend to want to categorize all women bloggers as "mommybloggers" even though most of them don't write about being mommies most of the time....but that's another post entirely!)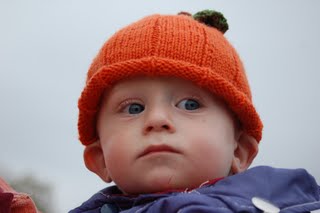 So, inevitably, what am I going to post today? Photos of Aaron from our pumpkin/apple adventure at Outhouse Orchards on Columbus Day. Because I'm missing him and these are the cutest photos ever of my boy who's getting so big! (Thanks, Shelli and Patty for a great day at the pumpkin patch!)

Also please note the tiny bit of knitblogging going on here as Aaron shows of his newly-knitted Pumpkin Hat! So see, it's not just about the kid!