I didn't mean to do it, honest.

My plan was to lay low, wait for the library recording of the masterful Jim Dale reading Harry Potter and the Deathly Hallows
, rip it to Itunes, and then listen listen listen-- 18 hours of a master reader practicing his craft.

Somehow though, I was enchanted, bewitched, conf'unded-- whatever you like. I drank the Kool-Aid.

On Friday night, Stephanie had other stuff going on with a friend, so I decided just for fun to visit Barnes & Noble to see what the fuss was about. I ended up at 3 bookstores (B & N Yonkers, Borders Eastchester, & Good Yarns in Hastings), cheered along with everybody else at 12 midnight, and then waited patiently until the next morning for our Amazon order to arrive.

And it did-- in a smart and beautiful package. (and apparently by owl!)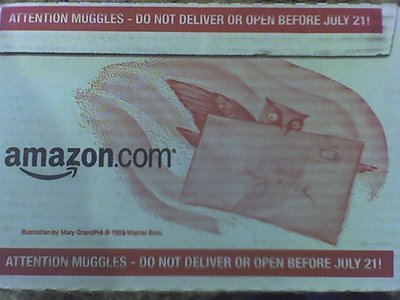 It was one of Stephanies Birthday gifts (one I got for her) and I let her start reading it. But when she put it down, I picked it up, and started reading.

I ended up inhaling the book, stopping only to make a run to Ikea and a late night Korean barbecue for one of Stephanie's colleagues (along with a failed blueberry hunt on Long Island (stupid suburban stores eating up all of the blueberry patches!)

Oh yes, Brunch with a pregnant rabbi and her Africa-returning sister (and the rabbi's equally conf'unded rabbi husband) I finished it Sunday around 4.


I won't spoil the fun for those of you who haven't yet read the book (or listened to the audio cd) But it's an easy read, mostly fast paced, very well told, and although there are some awkward expositional moments, it wraps up most of the HP Universe in a nice little bow.

I highly recommend it.

My only caution is-- stock up on blueberries-- you are going to need them!