That's what we now have on our third floor. It's not some arcane chess or poker move - it's what one needs if one has a tiny, narrow stairway and yet wants a queen bed up said stairway. Like us.

When we first moved into the house we moved my queen bed, with my beautiful pewtery scrolly bedframe, from my apartment. As loyal readers recall, we lived the first six or eight weeks on the third floor and, since we knew that our habitation on the third floor was temporary, we left the bedframe and box spring on the second floor, wrapped in plastic, and slept on the mattress alone. Next we and the mattress went to the office, and then, finally, the master bedroom was painted and cleaned and we set up the scrolly bed and box spring.

Adam has already blogged about the fact that after a few months with the queen bed we traded up to a king. We knew when we bought the king that we wanted the queen to go into the front room upstairs, to become the official guest room. But lo and behold, when the mattress delivery guys tried to get the queen box spring up the stairs - no go. Box spring too big, stairs too narrow, turn too tight, ceiling too low. (The queen mattress goes up there with some brute force - but it's much more malleable than the box, of course.)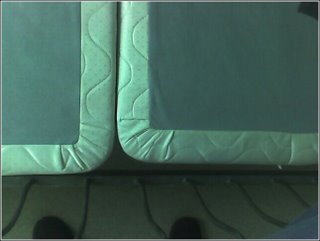 Thus the split queen box. It's pretty cool - 30" x 80" times two. Works just like a split king box, which, perhaps obviously given it's enormous size, is standard. The bed is now ready to go, just add sheets. I look forward to our first guests for the guest room when my sister and mom visit at Thanksgiving (though my mom was our first official overnight guest, on the Aerobed in the office last spring!).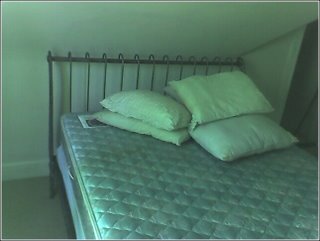 Labels: furnishings, house